Description
LIFX + A19 with Night Vision
Add layers of security to your home by providing your security camera with enhanced vision. It will let you enhance your environment with 16 million colours and tunable whites. With LIFX + A19 you can create your own IFTTT recipes to personalize home automation. With a tap on your phone, tablet or smartwatch, you will be able take your home from bold colours to cool pastels. The LIFX app is free for Android, iOS and Windows.
The LIFX + A19 is the first of its kind light that illuminates the windows as well as the hallways. It is the first ever light that is made to be used outdoors, illuminating the entirety of your home. Get the added LIFX advantage with the 60 day, no-fuss easy return policy with the LIFX light series. You are also provided with a 2-year manufacturer warranty for all LIFX LED lights sold through the LIFX website. Please refer this User Manual, for more information.
Click here to learn to Set up your LIFX Bulb.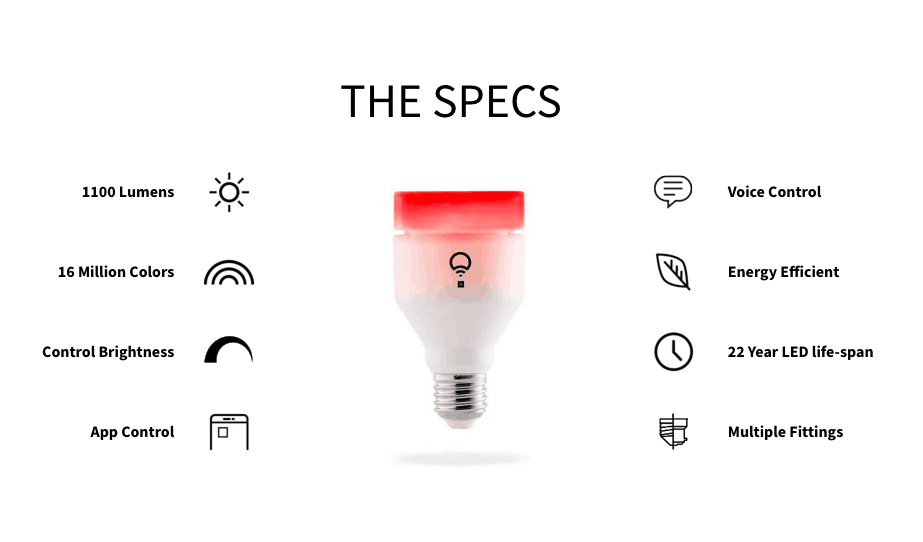 Night Vision for your IP cameras

The LIFX + A19 floods the darkest, hard-to-reach corners of your home with light, increasing the reach of your security cameras. The LIFX + offers the best Night Vision with the help of 950nm infrared light.
Save Up to 80% Energy

This light by LIFX, delivers uses only 13 watts of power at full brightness. With a beam angle of 135 degrees, the lights are also environment-friendly as they waste less energy.
Control the lights with a single app

Change the mood of the room by changing the light from bold colours to pastels in an instant by using a single app. You can also turn on/off the lights in your home with the help of the app.
Control the intensity of the lights

With dimming options available from 1% to 100% dimming, you can now control the intensity of the light in your house to suit to your needs, with the LIFX + A19 light.
Wide Colour Range

The LIFX + A19 gives you over 16 million colors to choose from, ranging from cool shades to warm whites. Light up your home according to your will with this light.
Voice Control

Your LIFX + A19 can also be turned on/off or dimmed with only your voice as the app that controls these lights downlight is compatible with Apple HomeKit, Google Assistant as well as with Amazon Alexa.
2-Year Hardware Warranty

With the purchase of the LIFX + A19, you are offered 2-Year limited hardware warranty that protects you against any manufacturing defects.