Description
Pert Motion Sensor is a smart security device that secures your home and family by sensing motion smartly and sending timely alerts on your phone. You can always keep a check on your pets and children when you are away from home.
This smart motion sensor automatically turns the lights off when everyone leaves the room or when you fall asleep in the room and turns them on when motion is detected. This enables you to save your energy usage or wastage of energy.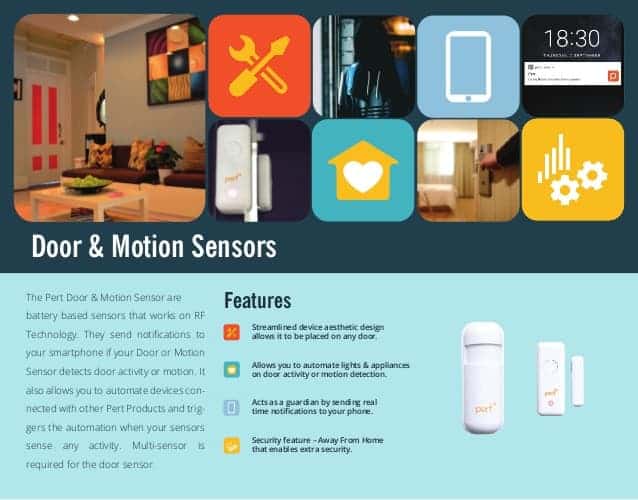 Minimalist Design

Pert's Motion Sensor is available to you with a minimalist design which makes it possible for it to mount anywhere you like. It captures even the slightest amount of movements.
Flexible Installation

It can be adjusted to all possible angles the user wants to install it. It gives you a 3-dimensional wide view arrangement with its ball socket within the bracket.
Super-Sensitive

Pert Motion Sensor is highly sensitive because of which detects even the slightest of the movements. From slight gestures to the quickest movements, the sensor detects it all.
Get Alerted

Get real-time alerts, notifications, and updates to get a seamless experience with your Pert's Motion Sensor. You get timely updates on your smartphone, allowing you to stay on track with the latest features and technology. Pert will always notify you whenever a new update is available.
Secures your family

Secure your home with Pert and never allow intruders to invade your privacy.
Easy to Install

Get hassle-free installation and set-up of the motion sensor and connect it to the Pert Multi-Sensor.
Away from Home feature

Enhance home security with the Away from Home security feature wherein motion detection becomes more sensitive.
Set smart rules

Create custom rules for your motion sensor and make it do whatever you want it to do when motion is detected.
2-year Manufacturer Warranty

Pert Motion Sensor is sold to you with a 2-year standard manufacturer warranty.
Check out more smart sensors to enhance your home security, here.