Description
Easy Control of Home Appliances with Fibaro Wall Plug
Wirelessly control all of your home appliances through your smartphone or tablet devices with the help of Fibaro Wall Plug. The Fibaro Wall Plug is intelligent and monitors the amount of electrical power consumed by your connected devices. It also shows the data of power consumption across days or weeks and even helps you to test the range of your Z-Wave network.
Easy Installation and Operation
The Fibaro Wall Plug is very easy and handy to install. Just put the Wall Plug in your socket, connect your electrical appliance to it and just press the "B" button on your Wall Plug to add it to your Z-Wave network. And you're done!!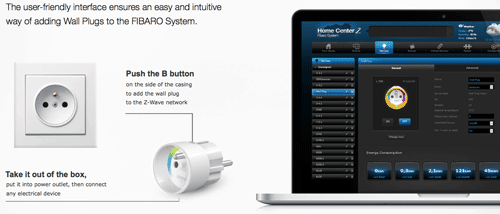 Intelligent Power Management
The Fibaro Wall Plug is aesthetically designed and features a LED ring that notifies the users about the amount of power consumed by changing its color. With the increase in power consumption, the color transits from blue to green and finally from red to violet. It can also trigger an alarm in case the power consumption goes above a preset limit.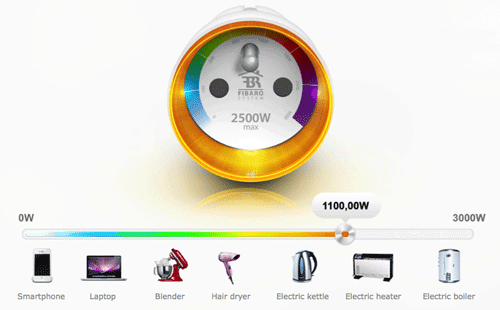 Energy Monitoring
The Fibaro Wall Plug sends real-time data to your main controller about the power consumed. You can then see and analyse the data and take proper decision to conserve energy. The Wall Plug also give stats for the top 5 energy consuming devices.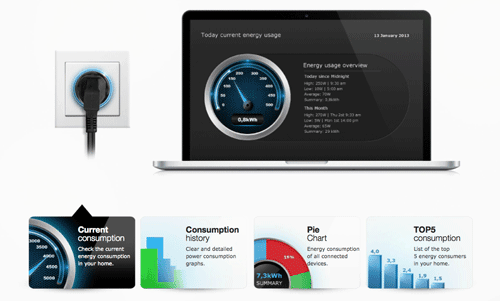 Z-Wave Network Range Tester
The Fibaro Wall Plug is smart and intelligent to help you test the range of your Z-Wave network. Press the button on the plug's casing for few seconds and the LED ring will turn purple indicating that the plug is in test mode. After some time the LED ring will change its color informing you about the strength of the Z-Wave signal at that point of test.