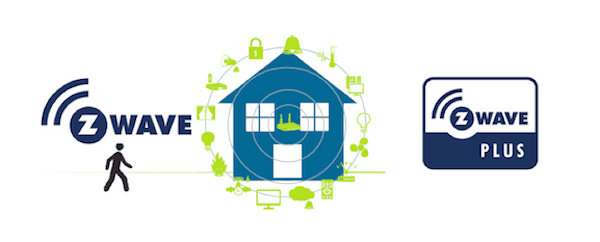 Z-Wave technology is the new wireless communication protocol for home automation devices. Used in a variety of smart home applications like lighting, security, entertainment and others, it's one of the upcoming new communication standards in the world of Internet-of-Things (IoT). It's currently being used by more than 300 plus manufacturers and thousands of devices, making it one of the most popular communication protocol after ZigBee.
What is Z-Wave Technology?
Unlike the ZigBee protocol that works at 2.4GHz wireless frequency, Z-Wave operates at in 900 Mhz frequency bands. Due to band constraints in different geographies, Z-Wave is a region specific protocol, which means it has different legally permissible frequencies in different regions.
However, since it operates in the low-frequency region, Z-Wave offers superior performance. The longer wavelength and lower frequency of the Z-Wave allow it to easily penetrate objects and walls, thereby establishing a more reliable and faster communication topology between the connected Z-Wave devices.

The Z-Wave uses a source-routed mesh network which consist of the one primary node – often referred to as the controller or hub in Home Automation, and many other secondary nodes referred to as sensors. In all the Z-Wave networks, the primary controllers are identified by network IDs and the secondary nodes or Z-Wave devices are identified by Node IDs. The primary controller assign Network IDs to all the devices configured within its established network. Thus all the devices within a Z-Wave network have the same Network ID because of which they are interoperable. Devices with different Network IDs cannot communicate with each other.
Because of the mesh network topology that it uses, the primary controller can send messages to the target Z-Wave device located at distant places by routing the signal through the intermediate devices finding out the shortest possible path. This process of signal transfer is commonly referred to as signal hopping. In case, if the devices within the path are busy, it will route signals through other available paths.
Z-Wave Features: At a Glance
Z-Wave uses much lower transmission power as compared to Wi-Fi ensuring 3-5 years of battery life to its users.
Z-Wave operates within the 900 MHz frequency band causing less interference and higher penetration.
Allows interoperability between version through 6 layers of backward compatibility.
Z-Wave devices can communicate within the range of 120 feet to 40 metres.
Z-Wave offers data rates of 100 kbps and higher security through AES128 encryption.
Works across range of household products like lightings, thermostats, security sensors, locks etc.
Working on a different frequency, it will not interfere with Wi-Fi or any other household signals within the home.
A given Z-Wave network can control up to 232 devices configured within that network.
Applications of Z-Wave Technology
The widely used application of Z-Wave technology as on date is for Home Automation systems.
Z-Wave can also be used for efficient energy management systems, security power theft etc.
The facility of interoperability among devices working on Z-Wave help you to club applications like lighting automation, smart security automation, entertainment automation etc.
Also used in industrial automation for smooth functioning of interdependent processes.
Widely used in smart home security systems.
Difference between Z-Wave and Z-Wave Plus
The Z-Wave Plus came into existence in 2013 when Sigma Designs and Z-Wave Alliance announced Z-Wave Plus – a new protocol and interoperability certification program. Z-Wave Plus was created by encompassing the early features of Z-Wave comprising 300-400 series SoCs thereby creating new 500 series SoCs.
The Z-Wave Plus is the latest technology certification standard that gives you a higher level of security and interoperability between devices. Z-Wave offers six layers of backhand support and so all the devices operating in Z-Wave Plus and Z-Wave are easily interoperable.
The Z-Wave Plus technology has been upgraded for easy installation and ease-of-use.
Standards and Z-Wave Alliance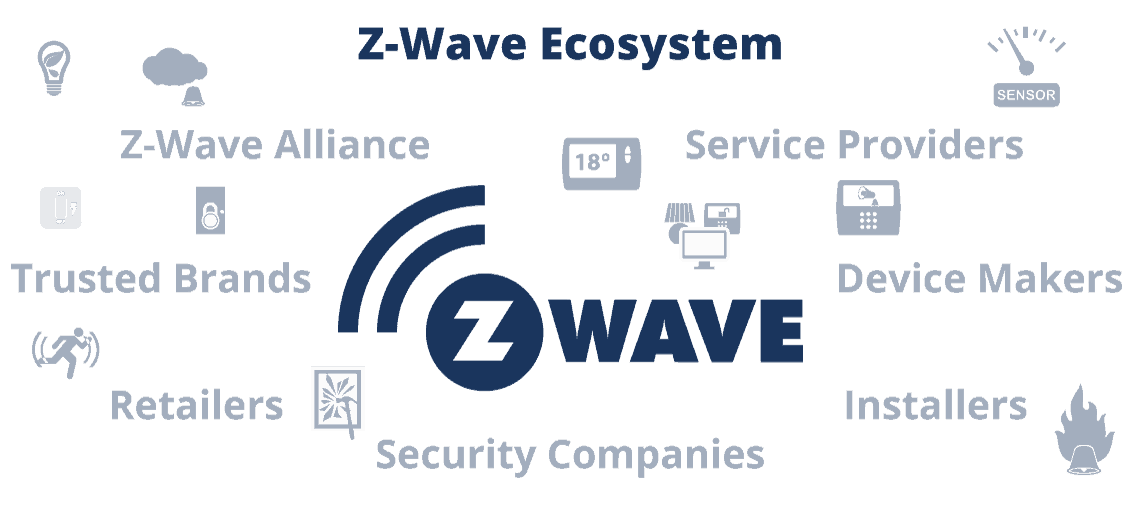 The principal members of the Z-Wave Alliance are Nortex Security and Control, LG Uplus, Ingersoll Rand, ADT Corporation, FAKRO and Sigma Designs.
There are various open source options available for Z-Wave vendors to create products of their own. They just need a Z-Wave transceiver and a Z-Wave OEM like an Intermatic USB stick to start.
Technical Details
Hardware: The ZW0201 is the chip for the Z-Wave for the Z-Wave nodes that is build around the Intel MCS-51 Micro-controller having an internal system clock of 16MHz. The RF part of the chip consist of GisFSK transceiver along with a software selectable frequency. The chip requires a power supply of 2.2-3.6 volts and it consumes 23mA of current in its transit mode.
Supported Brands
Across the globes, the current data shows that there are over 300 plus manufacturer of the Z-Wave devices in the market spanned across different applications like Home Entertainment, Smart Security, Smart Lighting solutions, etc. Some of the famous brands that work on Z-Wave are Samsung SmartThings, GE, Yale Security, etc.
Z-Wave Products
The different types of Z-Wave products available in the market include wall switches, alarm systems, lighting solutions, z-wave locks, roller shutter, etc.
Advantages of Z-Wave Technology
Ease of use and installation of Z-Wave products
Low power consumption for wireless communication as compared to Wi-Fi.
Due to lower power consumption, the battery life of Z-Wave devices extends upto years of usage.
Limitations of Z-Wave Technology
Cumbersome network maintenance as the network topology for the main unit i.e. the hub/controller in our case need to be replicated to all the secondary units or nodes.
Frequency of Z-Wave is region specific. Hence, devices working in one part of the world need not necessarily work everywhere else.
Inspite of Z-Wave network network having a limit of using 232 nodes, most manufacturers do not recommend using over 40-50 nodes in order to avoid congestion.
Further Reading