Description
Yale Real Living Touchscreen Deadbolt for smart keyless operations.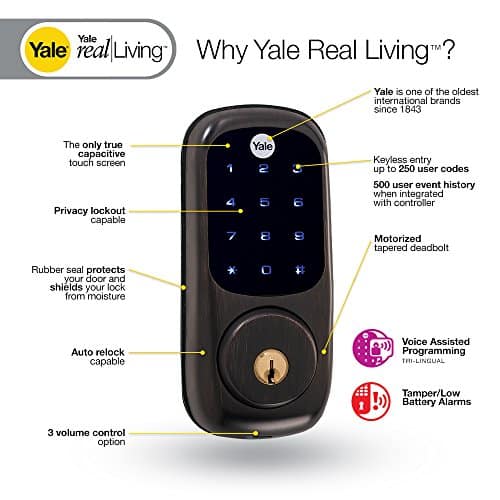 Managing keys for the door locks have always been a task on utmost attention and concern. Yale has now arrived with smart and effective solutions for wireless door lock management which aims to perform the traditional locking/unlocking task in an unconventional way. The Yale Real Living Touchscreen Deadbolt comes with a touchpad that allows users security codes for unlocking the locks. This way you can easily overcome with the burden of managing keys and assign a security code to your dear ones and thus simultaneously ensure selective access.
The Yale Real Living Touchscreen Smart Lock comes with facilities of tamper proof alarm and incorrect code locking feature and protects your home against intrusion from any third person. The deadbolts are easy to install and configure and come with external batteries. So you need not worry for any external electric supply connection.
The ZigBee/Z-Wave based  Yale Touchscreen Deadbolt are compatible with third party devices like Samsung SmartThings wherein the ZigBee/Z-Wave module within the lock communicates with the SmartThings hub and lets you control the lock operations via the SmartThings App. This way you can remotely access and operate your Yale lock sitting anywhere in the world.
Smartness Redefined

The worry to manage keys or lost of keys ends with the Yale Touchscreen Deadbolt. Simply assign a user PIN code to each member of your family or other dear ones and they can access your home anytime when needed.

Wireless ZigBee Connectivity

Yale Touchscreen deadbolts can very much be a major part of your smart home ecosystem. These keyless locks can easily connect to other ZigBee smart home systems in your home such as Samsung SmartThings that lets you trigger multiple scenes and alerts in case of lock breaks and secure your homes smartly.

Simple to Use

The Yale Touchscreen Deadbolts are very simple to use. Some locks do come with the traditional key operation feature so that in case of failure of batteries or the ZigBee modules, you still have an option to operate your locks easily. Also the keypad has got a built-in backlight that goes on in dark environments allowing users to easily read through the digits on the display.

High Standards of Security

The Yale keyless smart locks with built-in tamper detection alarms and other incorrect code locking feature. Also for keyless operations through smartphones, you lock communicates while sending a unique signal ensuring enough that only you can unlock your doors.

Always On

These keyless smart locks from Yale come with 4 AA batteries to power it up. Hence, it not being associated with the main electrical supply for its operations, you can easily have your peace of mind even if the electricity supply goes down. also, the lock will warn you priorly in case the batteries are running low.