Description
Philips Hue Wireless Dimming Kit – E27
Enjoy the comfort and convenience of wireless dimming
Comprising of a Wireless Dimmer Switch and a Hue White LED Bulb, the Hue Wireless Dimming Kit – E27 lets you control the lights from anywhere in your home.
Simply screw in the Philips HUE White bulb into the existing fixtures in your home and enjoy the comfort of wireless dimming with the battery powered dimmer provided with the Philips Kit. Easy setup and installation of the Wireless Dimming Kit eliminates the need for professional installation. You are also provided with a 2-year manufacturer warranty for all Philips HUE products sold through the website. For more information on the Philips Hue's White Wireless Dimming Kit – E27 to get some pro tips and tricks regarding the usage, please visit this page.
Click here to know what more you can do with Hue.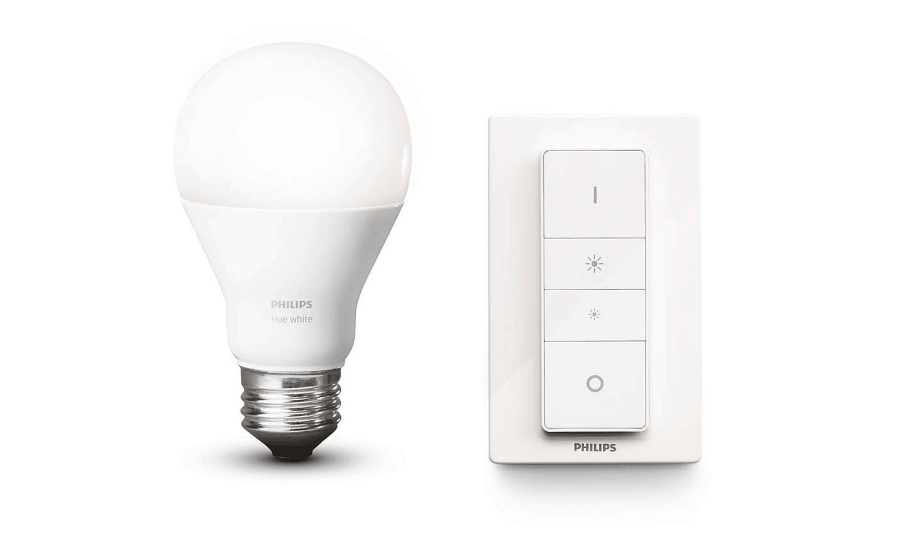 Enjoy the convenience of Wireless Dimming

This Wireless Dimming Kit – E27 lets you enjoy the comfort and convenience provided by an installation-free dimming switch. It can be placed anywhere and used to control and dim the HUE White LED bulb easily.
Control up to 10 HUE lights with one switch

The wireless dimmer included with this Philips HUE Kit can be used to control up to 10 HUE LED bulbs; giving you total control over the lights in your home.
Control all the lights in your home

A HUE Bridge can be added to and paired with the HUE Wireless Dimming Kit – E27. This bridge can connect up to 50 lights and bulbs, giving you the control of all the lights in your home, at the tap of a single button – no matter where you are.
Easy Installation

The Hue Wireless Dimming Kit is very easy to setup and install. This can be done in minutes, without requiring the services of a professional.

 
2-Year Hardware Warranty

With the purchase of the Philips HUE Wireless Dimming Kit – E27, you are offered 2-Year limited hardware warranty that protects you against any manufacturing defects.