Description
Z-Wave Vera Secure
GOOD-BYE SECURITY PANEL, HELLO VERA SECURE!
Vera Secure is a home controller/alarm hub, that has been designed for you to keep you and your home secure 24/7. It works as a security panel in a box. It can be paired with cameras, locks and sensors from dozens of brands to do wonders without putting any efforts.
It is compatible with the major wireless protocols like Wi-Fi, ZigBee, Z-Wave, Bluetooth BLE, and VeraLink. You can add the devices of your choice and let Vera Secure do the rest for you. The Vera App will help you operate everything just from a few clicks on your smartphone, PC or tablet, from anywhere around the world.
Its built-in piercing siren will help you scare off the intruders. It comes with a built-in battery which will keep you protected even when the power goes out. Its optional cellular backup will insure that it stays connected even when the internet connection is lost.
The installation process for your Vera Secure is extremely easy and can be done in just a few minutes without the help of a professional or an extra tool.
Know about the Z-Wave Technology.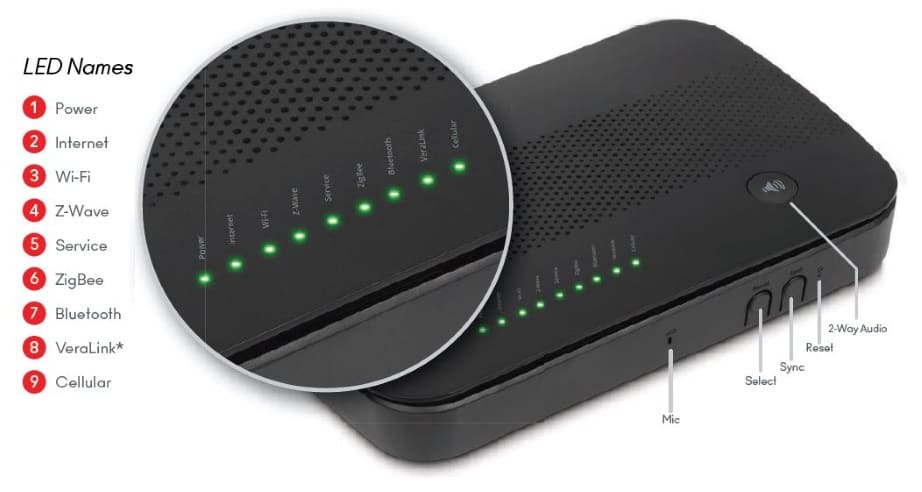 Get The Security And Peace Of Mind
Vera Secure can be replaced with your existing security panel, eliminating the hassle of monthly payments and contracts. You can pair it with Wi-Fi cameras, door/window sensors, motion detectors, glass break sensors and an outdoor alarm, to stay in touch with your home all the time, from anywhere around the world. It works perfectly well with brands like Nest, Schlage, Yale, Kwikset, Aeotec, First Alert and many more. This advanced device will not go off even if the power is out and will let you stay connected with every activity that happens in your smart home.
For An Ultimate Convenience

Vera Secure has been designed to give an ultimate experience of comfort and security, like never before. With its full-featured home automation controller, you will be able to control the lights, garage gates, smoke detector, carbon monoxide detector, temperature and humidity sensor and a lot of other devices with just a few clicks on your smartphone, tablet or PC.
Never Arrive Home To A Dark House
With Vera Secure, you will be able to schedule your lights to turn off and on according to the timing of your arrival and departure, so that you never have to worry about forgetting to leave the lights turned on when you leave for work.
Know When Your Kids Arrive Home
When you pair a motion sensor and a security camera with your Vera Secure system, you will be able to monitor if your kids arrive home safe. The system will send you instant notifications on your smartphone.
Know If Your Home Is Safe
Cameras and Sensors, connected to the system will keep your home secure all the time, giving you a complete peace of mind. Its built-in piercing loud Siren Alarm will let you scare away the intruders and alert the neighbours.
Save Money And Energy
With never wasting energy with control of lighting, heating and cooling, Vera Secure will help you save a lot of energy and limit your utility bills. It also does not require a monthly fees. Compared with cable-TV and alarm companies you'll save plenty!
Replace The Old Security Panel With Vera App On Your Smartphone, Tab or PC
The Vera Secure system has been designed to let you control your whole house just through a few taps on your smartphone, unlike the traditional wall mounted security panel. The Vera application will send you instant notifications about all the connected devices in your home. You will be able to monitor if the garage door is open or check if the door is lock and more, all from your smartphone.
Modes
The four modes – Home, Night, Away and Vacation, are a powerful feature that will let you control devices all at once. These modes are customizable, so you can decide how and when each of them work.
Cards
The Current Status Card displays at the top of the Dashboard and offers a quick check of overall Vera system status. You don't have to check each window sensor to know that all windows are closed and the alarm system is "Armed", for example.
Scenes
With Vera Secure, you can operate any device based on another device. You can create preferable scenes like turning on lights when sensor detects motion or get a notification whenever the door is opened. Timer scenes use the Controller's built-in clock to turn devices such as lights and lawn sprinklers on or off. Or use your phone's location to Geofence.
Geo-Fencing

Through your smartphone location, you will be able to automatically control the system. The garage gates will open, the lights will turn on, the doors will unlock, all automatically as you arrive home.
Users

The Vera system will let you have any many users as you want. Each of them can have their own username and password. This can also be used at your workplace. The Vera App will let you individually set permissions and notification setting for each user.
Notifications
Your Vera system can send you a text or email alert to notify you (and other users) of just about anything that happens in the system, such as when a door or window opens, a motion detector trips, someone unlocks the door, a smoke detector trips, and much more.
Installation
The installation process of your Vera secure is easy and can be finished in just a few steps.
STEP 1. Firmly connect the provided Ethernet Cable from your Vera Secure to your Wi-Fi router (or other Internet source).
STEP 2. Firmly connect the AC Power Adapter to Vera Secure and plug it into an AC outlet. Vera Secure has no on/off switch. It will power up as soon as you plug in the AC adapter.
STEP 3. Now easily setup the controller on this page.
For a detailed information on Vera Secure and its installation process, please go through its guide.