Description
Samsung SmartThings Hub
The Samsung SmartThings Hub (2nd gen) is the brain of your smart home. With its wireless connectivity, a wide range of smart devices can be made to work together. You can connect a wide range of devices including lights, speakers, locks, thermostats, sensors and more, with SmartThings Hub!
The device is backed by 100 Volts voltage. The SmartThings Hub sports an average battery life of 10 hours. The type of battery cell used for the device is Alkaline. The device uses ZigBee, Z-Wave, Cloud-to-Cloud, LAN, and ZigBee3 protocols.
Currently, SmartThings Hub works only in the US and Canada and is available only in white color.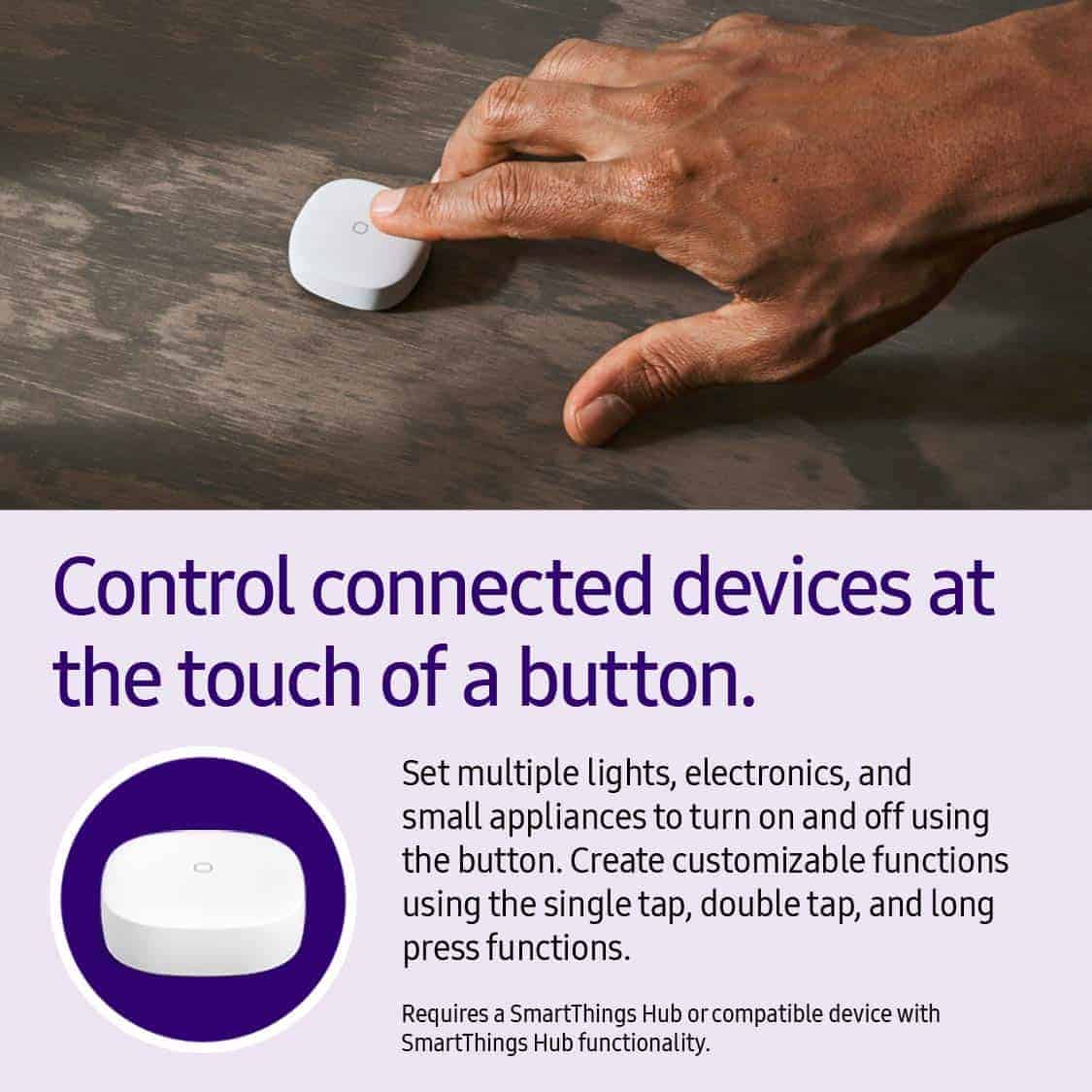 Automate Smart Devices & Appliances
The Samsung SmartThings Hub allows you to connect lights and switches from Philips Hue, Cree, Sylvania, LIFX, Leviton, and GE to turn on and off when you open doors or change brightness at the right moment! Connect wirelessly to any compatible smart devices and let them work together!
Connect Cameras & Doorbells
With SmartThings, you can connect your home cameras and doorbells from Arlo, Samsung, Ring, and Skybell. The device sends you video notifications to let you keep a check on your house. You can even turn on connected lights when there's a visitor.
Connect Door locks & Thermostats
You can connect door locks from Yale, Schlage, and Kwikset to open doors for you when you arrive home or lock them when you leave the house. The device gives you a royal and luxurious life in your house!
Simply connect your thermostats from Ecobee or Honeywell. And SmartThings Hub turn them on when you open the front door and turn off when you leave!
Monitor & Control via SmartThings app
The free SmartThings app sends you notifications about what's happening in and around your home so that you can constantly keep a check on your house from anywhere in the world! You just need to use your smartphone to remotely control your home's security, energy usage, and lighting.
The SmartThings app is free and available for Android, iOS, and Windows users. With the app, you can add as many additional SmartThings sensors or other popular Z-Wave, ZigBee products as you like. It allows you to add any number of Internet-connected products you want to add to enhance your home.
And the best part is, you receive instant notifications and alerts if Hub has detected any suspicious activity in your house! SmartThings Hub takes complete responsibility for your home security.
Manage your Smart Devices
With the SmartThings Routines feature, you can manage all your connected devices in your home. From features like Good Morning, Goodbye, to Good Night, SmartThings will do it right for you!
Works with Alexa & Google Assistant
You may also use Amazon Alexa or Google Home to control your smart home using voice commands. Teach your house new tricks! Tell it what to do when you're going to bed, awake, away, and back home.
Warranty
Samsung SmartThings Hub is sold to you with 1-year warranty.