Description
Wyze Cam Pan is a security camera that can pan horizontally and vertically to protect your home and family and recording crystal videos, track action and works with Alexa for higher security. With its high resolution 1080p HD camera, it captures and records crisp and sharp images and videos.
Wyze Cam Pan allows to see the entire room and captures every single detail. It gives a vertical range of 93°, horizontal range of 360° and a rotational speed of 110° per second. The 6 infrared LED lights can see up to 30 feet in the dark and records crystal clear.
Control smartly with your voice using Amazon Alexa and view your camera screen on demand. You can listen through this camera and talk back with your family and ensure higher security. It is available to you with a 1-year manufacturer warranty.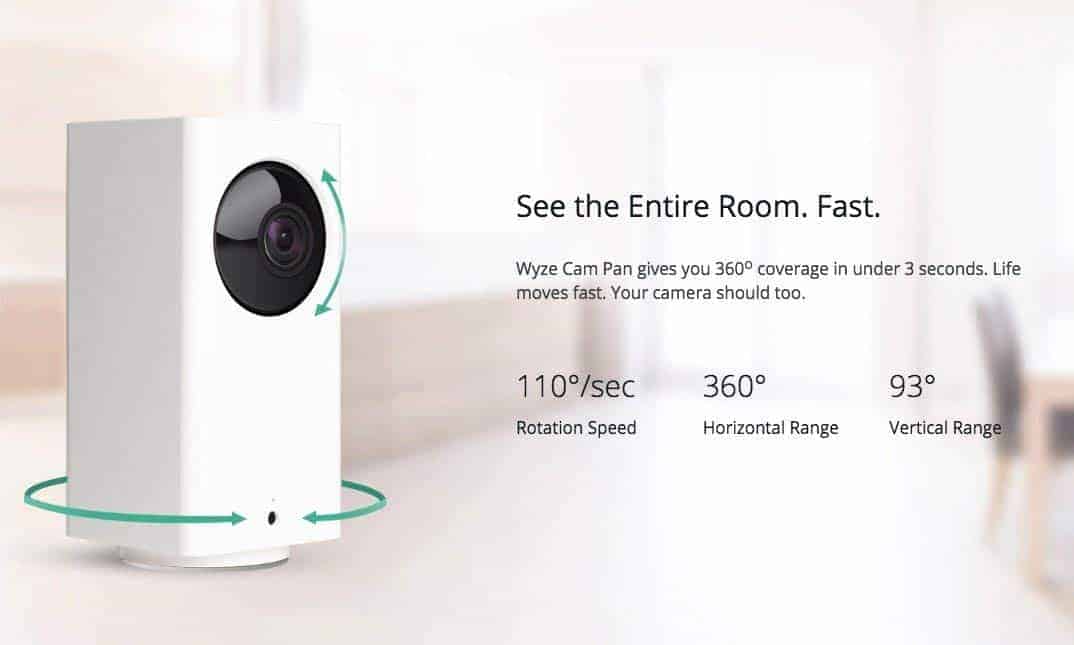 1080p HD resolution

Wyze Cam Pan records videos at full HD of 1080p resolution. With its 3.5mm focal length, f2.3 aperture, 120° wide angle lens, 8x Digital zoom, 15fps and 1/ 2.7" CMOS sensor it can record crisp videos.
Track Your Actions

This security camera can track and detect motion whenever an object moves. You get immediate alerts whenever motion is detected.
2-way Audio

Wyze Cam Pan allows to listen to high-quality audio because of its Class-K audio power amplifier and talk back to your loved ones from its unique mic design.
Immediate Alerts

Get alerted and notified immediately whenever something goes wrong or your camera detects motion or sound on your smartphone. You get to view a 12-second clip to stay in the know.
Night Vision

This security comes with 6 Infrared LED lights with which it provides crystal clear night vision videos. You can view clear images up to 30 feet away with its night vision camera.
Works with Alexa

You can use Alexa to manage or view your camera with any Alexa device with a screen.
14-day Cloud Recording

All your event videos are saved and uploaded in the AWS cloud via end-to-end encryption for free. These videos are accessible for 14 days and support unlimited storage. The AWS cloud is completely safe and protected because of the HTTPS secure transfer protocol.

Wyze Cam Pan can be easily mounted anywhere in the house. It allows you to save videos privately via microSD. The Wyze microSD is sold separately.
1-year Manufacturer Warranty

Wyze Cam Pan is sold to you with a 1-year standard manufacturer warranty.
Check out smart security cameras for your home, here.