Description
the Ultraloq UL1
Ultraloq UL1 is a smart lock that grants entry to users via the contactless key fob, biometric fingerprint identification and Bluetooth enabled smartphone. This smart lock allows users to unlock the door using a contactless key fob who don't use smartphones or fingerprint to unlock the door.
You can control it smartly with your voice using Amazon Alexa, give eKeys to guests, and monitor the entire activity using your phone. It comes to you with a weather resistant body which means it can surpass any weather and function at its best.
Ultraloq UL1 is available to you with a 1-year manufacturer warranty.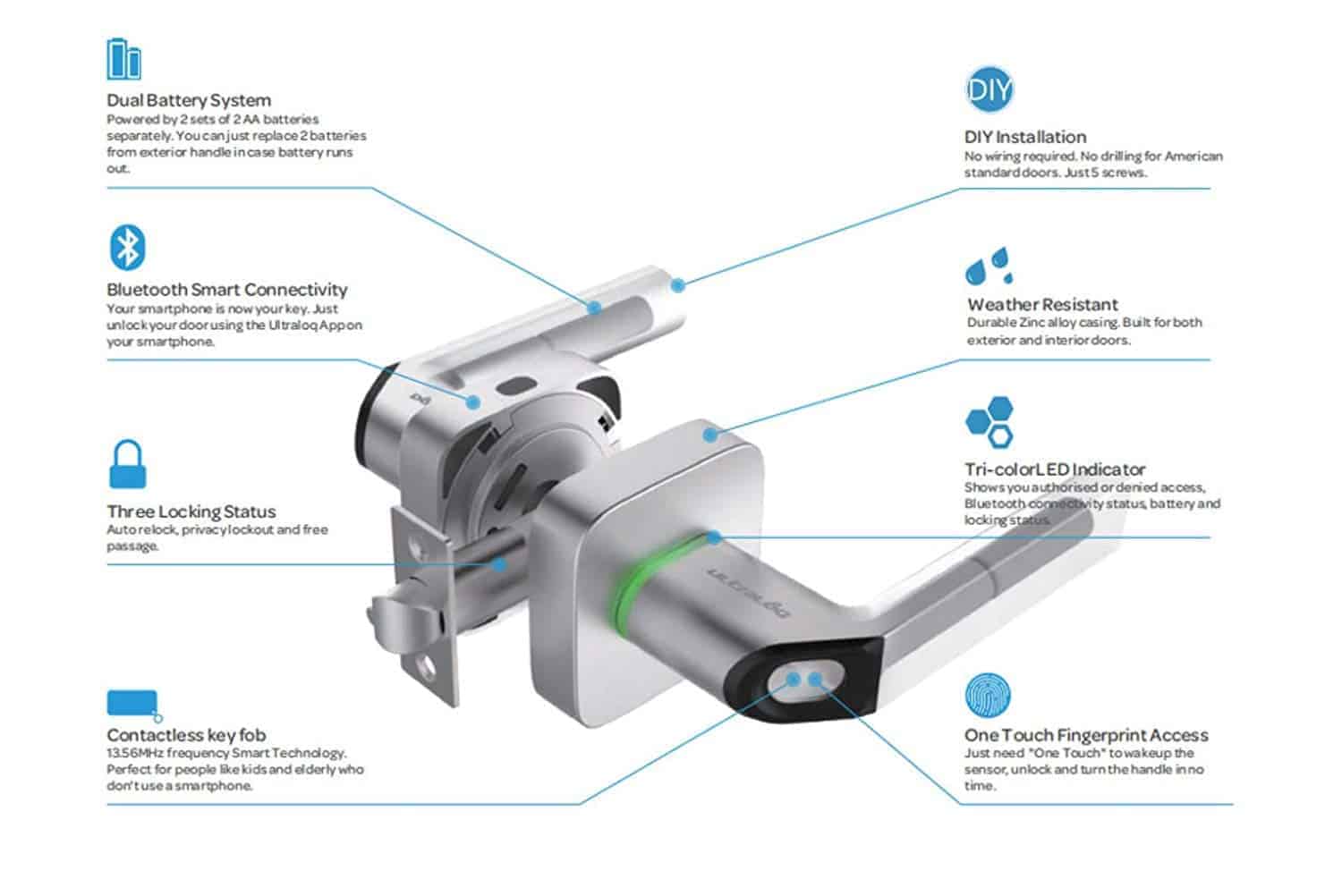 Unlock with Fingerprint

Unlock the door using your fingerprint at your natural comfortable hand position. One seamless action wakes the sensor, reads your fingerprint and unlocks the door.
Quick Tap Entry

Users like children and the elderly who do not use fingerprint or smartphones can unlock the door using the key fob provided. The door gets unlocked by presenting the fob in the vicinity of the door handle.
Keyless Entry

Grant keyless entry using your smartphone to unlock the door without keys from the Ultraloq app.
Easy DIY Installation

This smart lock is easy to install and doesn't require any wiring or drilling. It is adjustable for both right handed or left handed doors. Installation of the smart lock is a matter of minutes and requires only five screws.
Dual Battery System
Ultraloq UL1 works on a dual battery system with which you never have to worry about getting locked outside because of a dead battery. Also, you get an instant notification on your phone whenever Ultraloq is on low battery.
Allow guests to enter
Share eKeys to guests and allow them to enter your house. Keep a watch on who is going in or going out using the Ultraloq app.
Manage Multiple Users
See who has access to your house and who doesn't via Ultraloq. Manage users in the app and give or revoke access to different users.
Keep in the Know
Know who was given access at what time from the Ultraloq app in your smartphone.
Matches Your Home Theme
The Ultraloq UL1 is designed keeping your home's style and functionality in mind. It brings usability, simplicity, and elegance altogether.
Control smartly with voice
Control your smart lock with your voice with Alexa, Google Assistant, and IFTTT.
1-year Manufacturer Warranty
Ultraloq UL1 is available to you with a 1-year standard manufacturer warranty.