Description
Ultraloq Combo
Ultraloq Combo is a two-point smart locking system which allows users to unlock the door using their fingerprint, Bluetooth enabled smartphone and a contactless key fob. It allows you to lock the door on the handle and on the deadbolt to ensure double security of your house.
Ultraloq Combo allows up to 8000 times accessing with Bluetooth 4.0's ultra-low power consumption technology. You can start remotely controlling your lock system with the optional Bridge.
Ultraloq Combo is available to you with a 1-year manufacturer warranty.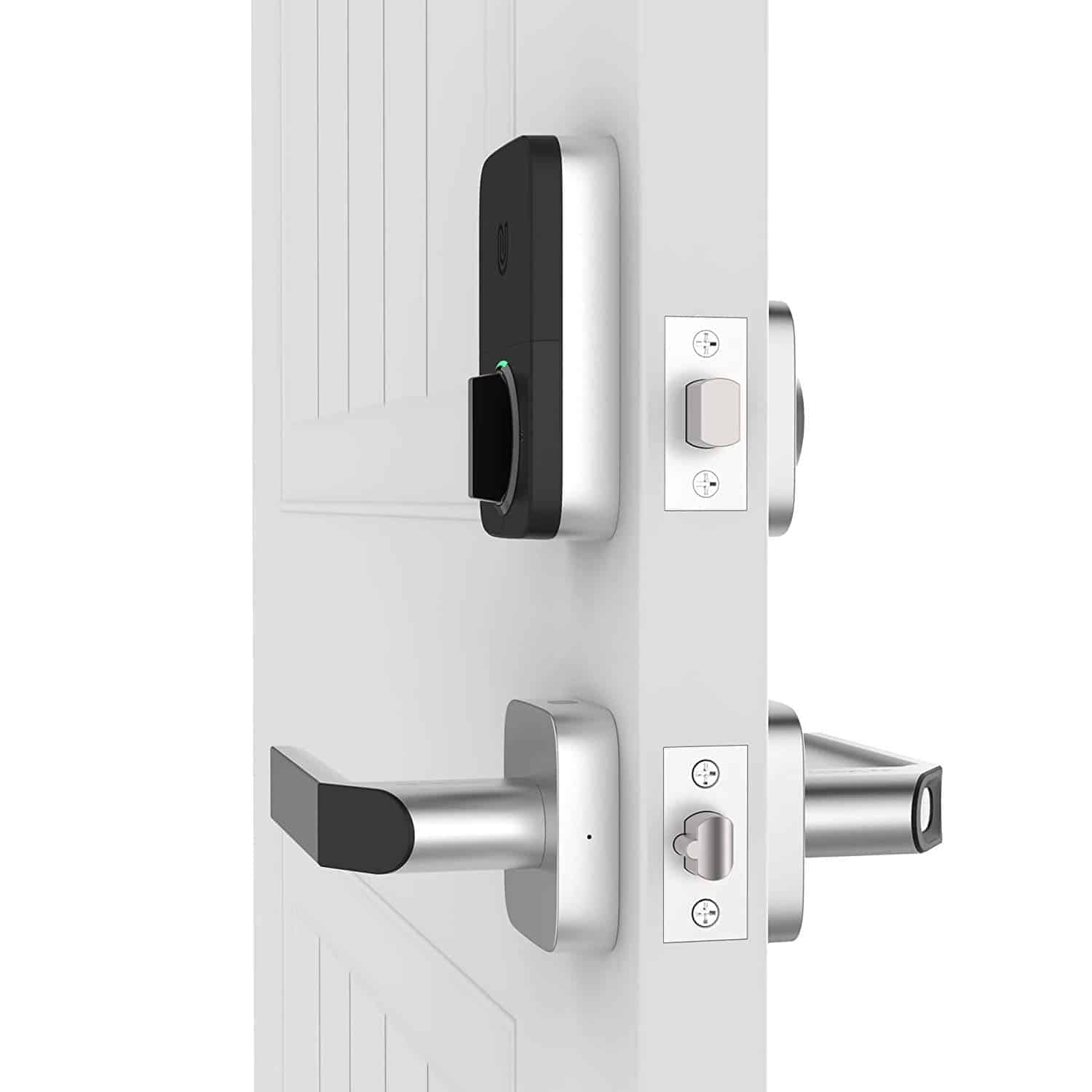 Two-Point Locking

It allows you to lock the door on the deadbolt and on the handle and ensures twice the security.
One Touch Unlocking

Unlock both the locks with just one touch using your fingerprint. Unlock the door at a natural hand position using your fingerprint, smartphone or key fob.
Single Motion Exit

In a single motion exit feature, the door gets unlocked automatically when the interior handle is turned down. You can always disable this feature in the app.
Quick Tap Entry
With Quick Tap entry, Ultraloq Combo gets unlocked using the key fob without having to use smartphones or fingerprint to unlock the door. This feature is ideal or children and the elderly.
Share eKeys
Share eKeys and grant access to people to your house for a specific period of time.
Keyless Entry
Unlock the door using your smartphone using the Ultraloq App.
Manage Users
Manage users with the Ultraloq app and know who has access to your lock and who is denied access. You can always add or delete users at your convenience.
Log Record
Keep a check on who was given access and who was denied access. Check the records on your phone and stay in the know.
Dual Battery System
Never worry about getting locked outside because of a dead battery. Ultraloq Combo comes to you with a dual battery system and alerts you whenever the battery is low.
Matches Your Home Style
Ultraloq Combo is designed in a way that matches your home's style and functionality. Combo brings usability, simplicity, and elegance to your housing.
Easy DIY Installation
This smart lock is very easy to set up and requires no wiring or drilling. It can be adjusted for both left handed or right handed doors. Installation takes just a few minutes and 5 screws.
Smart Control
Works with Alexa, Google Assistant, and IFTTT for voice control.
1-year Manufacturer Warranty
Ultraloq Combo is sold to you with a 1-year standard manufacturer warranty.