Description
Zipato ZipaTile is an intact Home Control System confined in a single beautiful device. Consisting of a large number of sensors and controller hardware modules, it serves as a convenient replacement to the age-old Thermostat, Intercom, Elderly care, Security, Wall Panel, IP Camera and Home Automation System. It is any wall mountable and enables controlling through a smart phone.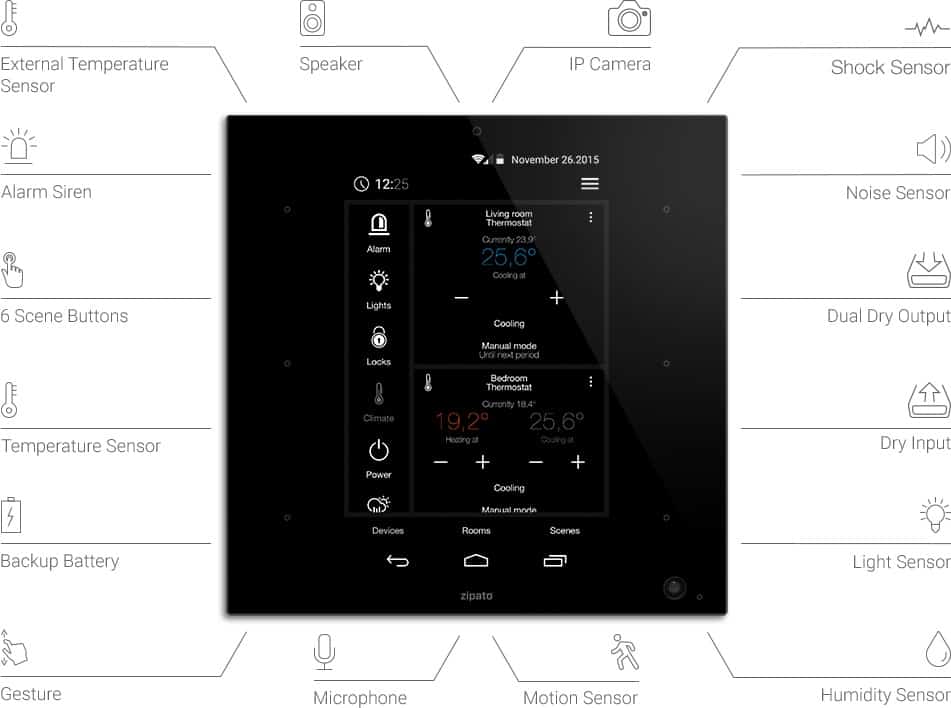 Zipato ZipaTile exhibits a range of features offering a wide range of facilities to its users.
Smart-Distant Control: 

The Zipato App available on Apple Store and the Google Play Store facilitates controlling the ZipaTile from anywhere across the world enabling you to remotely monitor and control the lights, temperature, luminance at your home.

Intercom:


Zipato ZipaTile serves as a phone station easing communication in several ways. If there is more than one ZipaTile at your residence, they can serve as a medium for inter-room communication. With SIP based outdoor phone units, it can serve as an internal phone station. There are Zipato Servers that also facilitate forwarding a call made by the SIP based phone unit to your smart phone/ZipaTile, anywhere across the world. SIP Server Events supported by the ZipaTile Server associated with Zipato assists the creation of automation rules using Zipato Rule Creator.

Elderly Care


Zipato ZipaTile serves as a standalone elderly care unit assisting users to monitor the condition of the elderly at home from a distant place. ZipaTile enables detecting no motion over a long period, panic button auto call facility, sound reminders, voice and video calls at certain durations and automatic check calls.

Smart Thermostat


A complete room cooling/heating control system enabling relays for boiler control, floor temperature control, outside temperature based room temperature regulation.

Information & Control Panel


Zipato ZipaTile control panel has 6 buttons with 3 different types of Inputs to control your home, apart from the 8'' IPS HD Screen with a constant internet connection and Android 5.0. It also has a capability of recognizing 50 gestures set up using the Zipato Rule Creator even when the screen is OFF, for controlling operations. ZipaTile also allows checking news, stock updates, and outdoor environmental condition.

Security


Zipato ZipaTile being a cohesive security system enables motion, noise, fire, shock detection through siren in the house. Supervised by 24*7 monitoring station, the user is intimated in case of any incident. IP Camera support allows you to receive an image or a video for detailed pictorial information about the incident. 

Z-Wave Plus Certified


Over the Air Upgrade, extendable battery life and increased range are the features offered by Z-Wave Plus.