Description
Zemote Smart Universal Remote
Zemote Smart Universal Remote is a remote that allows you to control your IR remote controlled appliances with your phone or with this remote.
Switch channels easily, control channel search options and more with this smart remote. You can also use the remote's light as a night light or a torch to be able to see in the dark. Control multiple IR devices of your home like the TV, AC, Home Theatre, Set-top box and other devices to get started with an awesomely smart home. This smart remote comes to you with a 1-year manufacturer warranty.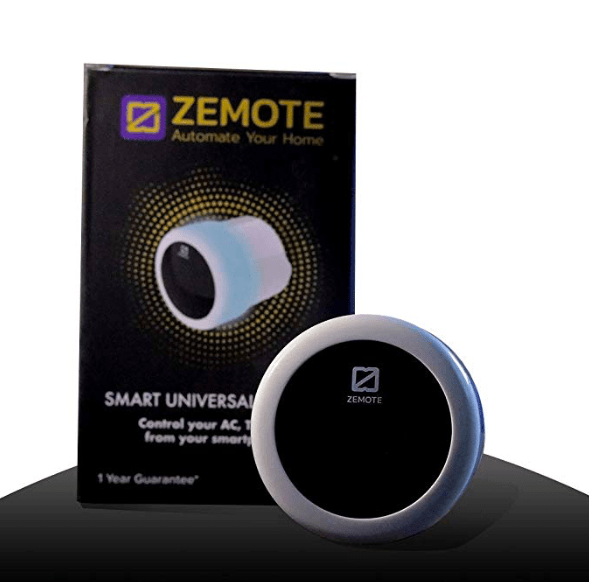 Appliances

Control up to 10 appliances with this remote. IR controlled appliances like DVD, Home Theater, set-top box, TV, AC, projector, DTH can be controlled.
Variety of Features

Zemote Smart Universal Remote comes to you with a variety of features for TV channel control keeping consumer satisfaction in mind.

You no more have to worry about wasting your time typing the channel number to watch. The channel search feature seems to solve this problem.
Set schedules to watch a channel when it's time for your important show.
Get Smarter

Smart Universal Remote is compatible with TV brands and with all major DTH companies. You can control your AC's temperature, adjust Home Theater volume, change TV channels or schedule TV shows and more with the Zemote Smart Universal Remote.

 
 

Energy Usage

It requires an operating input voltage of 90 – 240 VAC. The night light requires an operating input of 2 Watts LED. It consumes a minimum broadband speed of 512 Kbps.
1-Year Manufacturer Warranty

Zemote's Smart Universal Remote is available to you with a 1-year standard manufacturer warranty.
Check out amazing Smart IR Controllers for your home, by visiting here.