Description
Yi Outdoor Camera
Yi Outdoor Camera is a Weatherproof, dust-proof and durable home security camera that guards your family day and night or rain or shine. This camera is built for any environment-parking lots, warehouses, villa, or courtyard; making it easier for you to connect to the outside world.
The outdoor camera comes with an elegant, minimalist and smart design along with its wonderful Weatherproof technology. Yi Outdoor Camera has received IP65 Waterproof rating.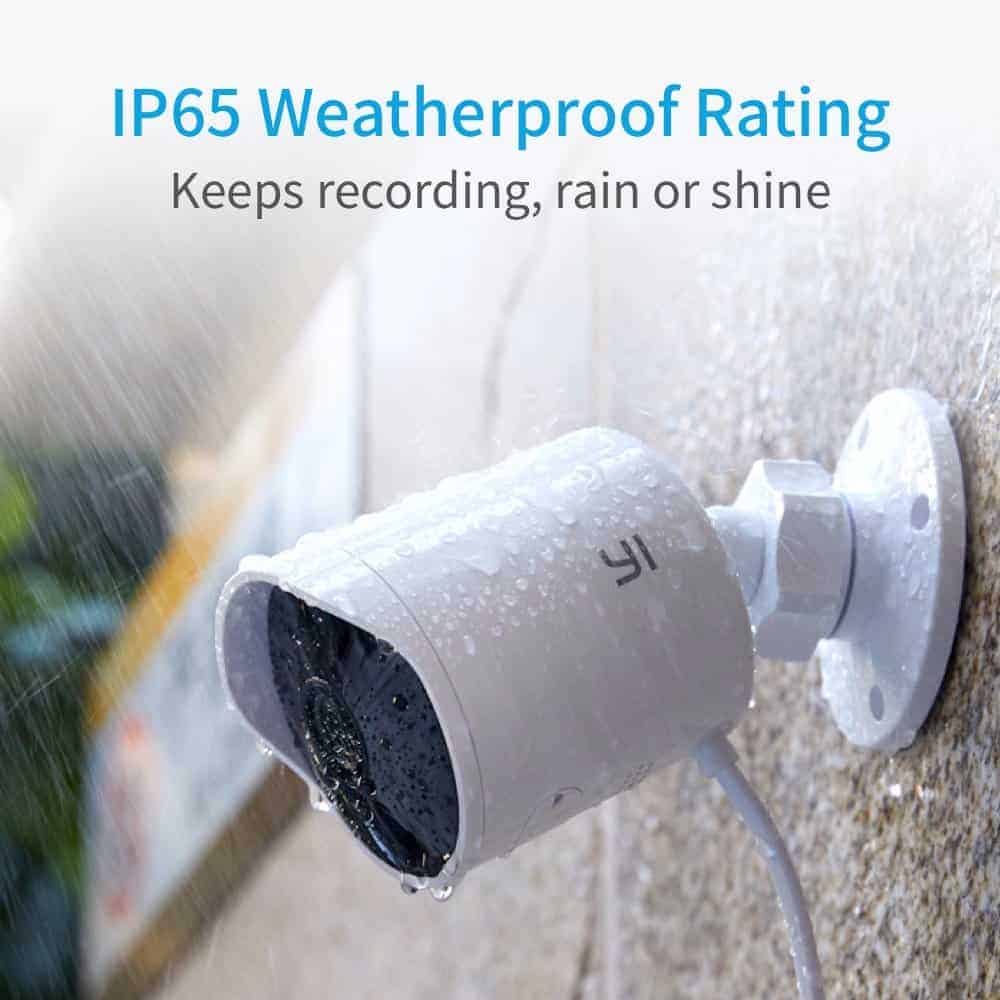 Night Vision and Guarding

Outdoor Camera is available to you with a stunning 12 850 nm Infrared Night vision which supports automatic color switch filter at night. The night vision at 20 fps gives a smooth performance, with no ghost artifacts. It also has a visual distance up to 15 meters.
Yi Cloud

Yi Cloud knows that an outdoor camera needs supreme data protection, footage security, and large storage space. This is why it provides you with financial-industry level encryption, with a variety of loop recording modes of 7/15/30 days. It also provides nine different packages for you to choose from.

Your footage always remains secure no matter what happens to your outdoor camera. For new users, Yi Cloud provides a one-month free trial version of the cloud. The local storage can support up to 32 GB memory and loop recording.
High-Definition Video Quality

With full HD 1080/ 20 fps resolution and H. 264 encoding, it has more precision of colors and automatic white balance technology respectively. With a powerful dynamic range, it makes your living even safer.The camera contains 110° wide angle lens with a 3.9mm focal length attached to a flexible mount sharing the same FOV as the human eye.
High-Power Speaker

With high-power speaker, Yi Outdoor Camera can detect danger and will immediately warn you to deter uninvited guests. You can enable this setting using the Yi Camera app.

The camera also supports customized area alarm, motion detection alarm, custom time period alerts alert sensitivity to notify you only when you want to be notified. Its intelligent motion detection algorithm reduces unnecessary warnings.
3 Meter Cable

Yi Outdoor Camera comes with a 3-meter power cable, USB port and a professional power adapter which makes its installation easier. You do not have to purchase an additional extension line like other outdoor cameras. Simply plug the cable to the nearest power supply.
Sharing is Caring

Sharing is caring! Yi says it too and that's why it allows you to share your moments with up to 5 different people. You can share the on-demand live-feed with them. PC supports live-feed of up to 4 devices on one screen.
Easy Connection

It doesn't take long to connect to your Outdoor camera with the Yi Home App. Download the app, plug in the power cable, and tap to connect. And you're done! See the view from anywhere, anytime.
1-year Manufacturer Warranty

Yi Outdoor Camera comes with a one-year standard manufacturer warranty service.

 
Check out a wider range of Smart Wired and Wireless Cameras to level up your home security.