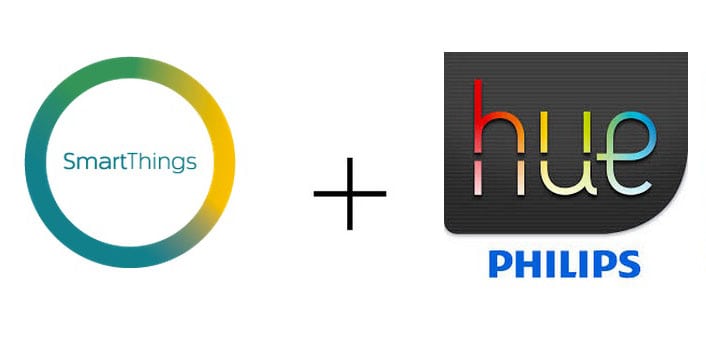 Philips has arrived with some very smart LED lighting solutions in home-automation and has its own range of "Philips Hue" Lightings that is supported with its own dedicated hub and app control.
The good thing about the ZigBee controlled devices from Philips is its ability to pair with third-party manufacturers like Samsung SmartThings and respond in sync to various activities in home like motion, intruder breaking and other such endless activities.
Once you are done with the basic setup of the Hue Bulbs, let us understand the Integration of Philips Hue with SmartThings.
NOTE: Philips Hue integration with SmartThings requires the Ethernet Bridge. Direct connection of Philips Hue bulbs with SmartThings is not supported.
Integrating Philips Hue with Samsung SmartThings
Step 1: Make the initial setup of the Philips Hue Bridge with the Hue App Gen 2 on your Android/iOS devices.
Step 2: Open the SmartThings App and go to Marketplace.
Step 3: Under the Things section, go to Lights and Switches. Click on Light Bulbs->Philips. Tap on the device and click Connect Now. 
Step 4: Once the SmartThings Hub scan your local network for the Hue bridge, click on Select Hue Bridge to enable it with SmartThings. Select the button that is next to your bridge. Click on Done->Next. 
Step 5: You will be prompted to press the button on the Hue Bridge in order to link it with the SmartThings. Once the link is established, click on Next. 
Step 6: The SmartThings Hub will then scan the Hue Bridge for Hue Lights. The spinner will appear and once the device is found, "(0 found)" will then increase the number of Hue Lights on the Hue Bridge.
Step 7: Click on the SelectHue Bulbs to enable them with SmartThings. Check the boxes besides the Hue Bulbs you want to control. Click twice on Done. 
You can now use and configure each lights that appear in the Things section under the My Home of the SmartThings App.
Similarly, in case the hue bulb is not functioning well or for some reason you want to remove it, in the SmartThings app, go to My Home->Things. Tap on the device. Click on the gear icon and click on Remove. Confirm the removal and you're done.
Control Philips Hue with Samsung SmartThings
Once you have completed the setup process for the Philips Hue bulbs, one options is to control through the Things section under My Home.
The other options we recommend is to control the bulbs through the Smart Lighting section. For This go to Marketplace in the SmartThings app, click on SmartApps–>SmartThing Recommends–>Smart Lights by SmartThings–>Install.