Description
Yale YDR343
With multiple modes of access such as Proximity Card, PIN Code and Remote Control (optional), the Yale YDR343 lock is a strong Vertical Rim Lock that provides smarter solutions for your home. Strong security features such as the provision to enter a Fake PIN code, combined with the sophisticated design of the Yale YDR343 lock; making it a popular smart access solution for your home.
With the Yale YDR343 lock, you also have the option of deactivating the access of a registered proximity card in case it gets lost; thus ensuring the complete safety and security of your home. All Yale locks sold through our store come with a 1 year manufacturer guarantee/warranty. YDR343 can be installed easily by following the instructions in the manual.
A smart door needs a smart doorbell! Browse from the best Smart Doorbells suitable for your smart home!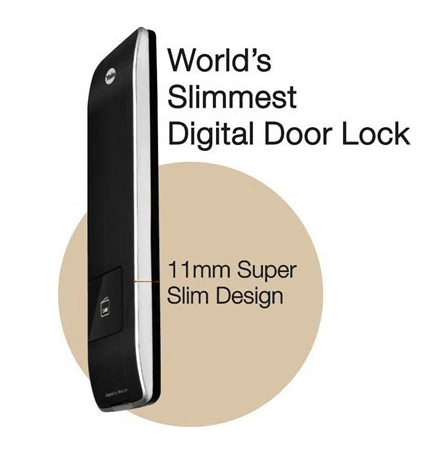 Multiple access options

Get multiple options to access your home with the YDR343 locks. You can now access your home with an RF Card, a Touch Keypad as well as with a Remote Control provided with the YDR343 locks for your convenience. A Mobile Access option is also provided that allows you to access your home using your mobile phone.
Enhanced safety with Thumb-turn locks

Get advanced security features such as the safe thumb-turn feature with the YDR343 locks. This features allows the user to turn the knob only after two safe buttons are pushed down by the user simultaneously. This offers improved security as compared to the more traditional door knobs.
 

High Temperature Alarm

The YDR343 lock detects a rapid increase in temperature inside the house owing to a fire. On detection of such a situation, the Yale YDR343 lock sounds an alarm to alert the inhabitants of the house of the fire; as well as automatically releases the lock to let people outside to safety.
Prevent others from guessing your PIN code

Protect others from knowing your PIN Code. The Yale YDR343 lock protects your PIN Code by enabling you to enter fake numbers before and/or after entering your PIN code.

 
Beautiful & Sleek Design

The Yale YDR343 lock has a sleek, sophisticated design that also adds to the look and feel of your front door. It's one of the world's slimmest digital door-lock that comes with a beautifully designed invisible keypad. It stays invisible, and lights up, only when you touch the screen.
Easy Installation

Yale YDR343 fits into any door with a latch-based mechanism. It can either be installed by a professional; or you can even follow the user manual to fix it yourself.
1 Year Manufacturer Warranty

With the purchase of Yale YDR343 lock, you are offered a 1-Year Manufacturer Warranty; which protects you against any manufacturing defects.