Description
Yale YDD324
Access your home with multiple modes of unlocking the door such as RF Card, Remote Control, PIN, as well as ordinary mechanical access key. The Yale YDD324 is a strong Deadbolt Lock that gives you access to your home in a smarter way.
With the Yale YDD324 lock, you also have the option of deactivating the access of a registered proximity card in case it gets lost, thus ensuring the complete safety and security of your home.
All Yale locks sold through our store come with a 1 year manufacturer guarantee/warranty. YDD324 can be installed easily by following the instructions in the manual. For more information, please refer this User Guide.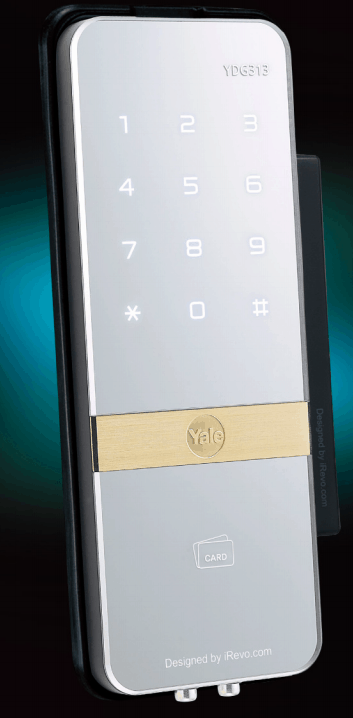 Make your dream of an automated home come true! Try Smart Switches for your home to control them from your voice.
Multiple access options

Get multiple options to access your home with the YDD324 locks. You can now access your home with an RF Card, a PIN Code or with a mechanical key override in case of emergencies. A Remote Control is also provided with the YDD324 locks for your convenience.
Intelligent Status Notifications

The sleek and sophisticated keypad of the Yale YDD324 lock informs you each time an operation is made. The operation status notification is given by the lock using different alignments of the numbers.
Sleek Design

The Yale YDD324 locks have a sleek, sophisticated design that also adds to the look and feel of your front door. It consists of an invisible keypad that only lights up when you touch the screen of the YDD324 lock with your hand.
Smart Automatic Locking

The Yale YDD324 lock automatically locks your door after checking that the door is properly locked, while also providing you the option of manually locking the door.
Protect your home with an integrated alarm

The alarm system in the Yale YDD324 starts ringing at 80 dB if it detects temperatures of over 55°C on the lock. The alarm also goes off if it detects an attempt at breaking the lock or forcing it open.
Low Battery Notifications and Emergency Power Backup
The Yale YDD324 system alerts you with an alarm and an LED when the system runs low on power. Emergency power may be provided to the YDD324 system through a standard 9V battery, in case the batteries get completely discharged.
Prevent others from guessing your PIN code

Protect others from knowing your PIN Code. The YDD324 lock protects your PIN Code by enabling you to enter fake numbers before and/or after entering your PIN code.
Easy Installation

YDD324 fits into any door with a latch-based mechanism. It can either be installed by a professional or you can even follow this Manual Installation guide to fix it yourself.
1 Year Manufacturer Warranty
With the purchase of Yale YDD324 lock, you are offered a 1-Year Manufacturer Warranty, which protects you against any manufacturing defects.