Description
Ultraloq UL300
Ultraloq UL300 is a multi-point smart lock that allows users to enhance their home security by locking the door at multiple points. Users can unlock the system in 6 ways and access the room.
UL300 comes to you with sleek and modern design to match technology with style. Unlock your door by shaking your phone, share temporary codes to guests for access, and grant access with a key fob which is suitable for kids and the elderly.
Unlock the door with 6 methods with the help of fingerprint, contactless keyfob, smartphone, code, and many other ways. Ultraloq UL300 comes to you with a 1-year manufacturer warranty.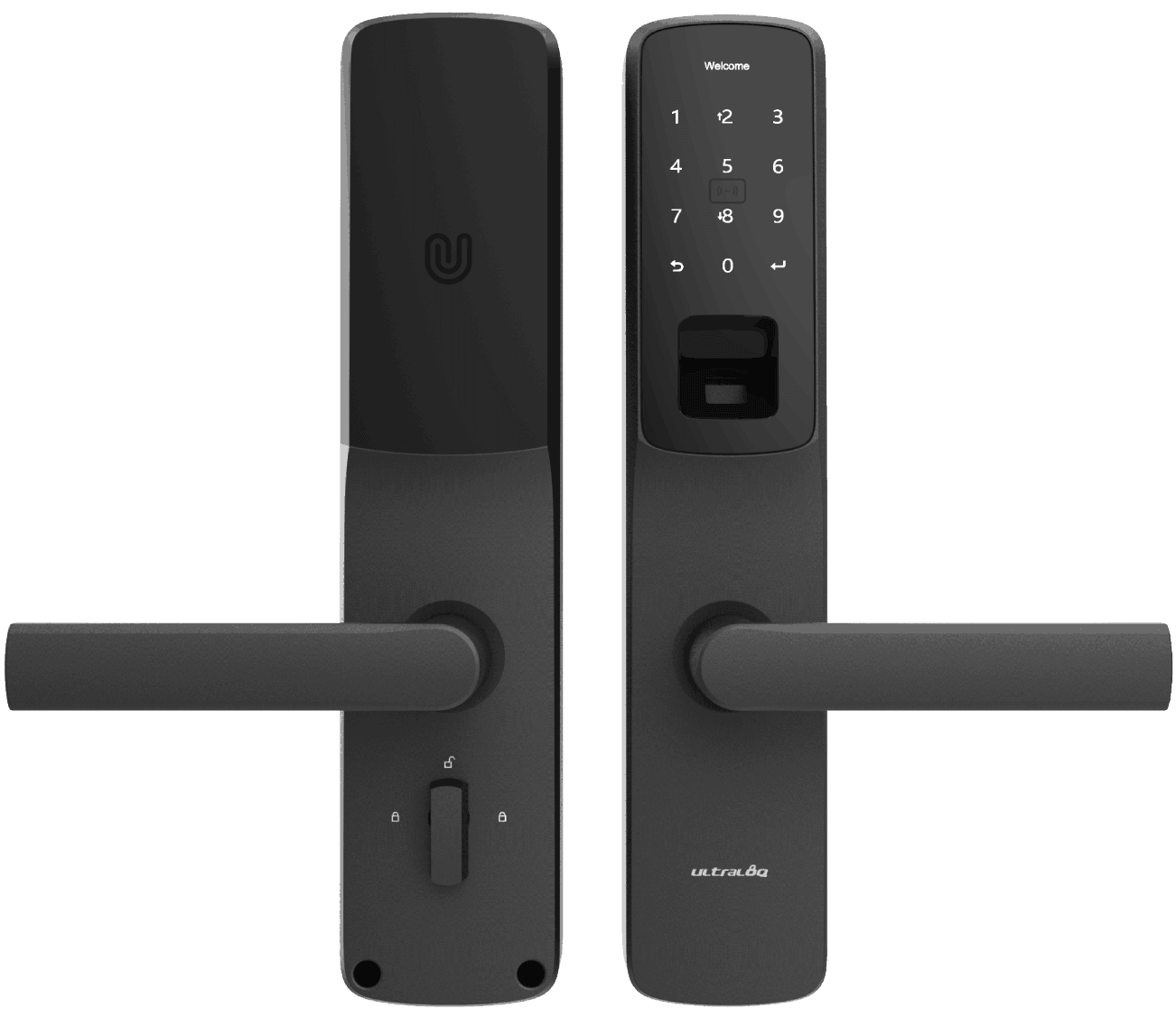 6 in 1 Keyless Entry

It allows users to unlock the door in 6 ways using biometric fingerprint identification, contactless key fob, Bluetooth enabled smartphone, mechanical keys, code, and magic shake.
Advanced Capacitive Fingerprint Identification

Reads your fingerprint in less than 0.4 seconds with its enhanced speed and superior performance.
Multiple Locking Points

Provides multiple points locking with its strong stainless steel construction.
Anti-peep touchscreen
Nobody can find out the code to unlock the system with its Anti-peep touchscreen. Type any random digits of numbers in the start and end and you will get access as long as the middle 5 digit number is correct.
Share Temporary Codes
Give temporary codes to your Airbnb guests or relatives or friends instead of keys. The code will expire automatically after a certain time.
Quick Tap Entry
Children and the elderly can use the key fob for quick entry. It is ideal for those who don't use smartphones or fingerprint to unlock.
Magic Shake
Get access by simply shaking your phone without having to unlock the system from your phone or other electronic ways.
Two Factor Authentication
With Two-factor authentication, you can create two steps of unlocking to ensure double security of your system. You can keep fingerprint unlock after code or key fob unlock.
1 Year Battery Life
UL300 comes with 1 year of battery life because of Bluetooth 4.0's ultra-low power consumption.
Control the System
Control the system through the Ultraloq app by managing users, sharing eKeys and unlocking with a phone.
Log Records
Check who was granted access and who was denied from the log records section in the Ultraloq app.
Control with you voice
Works with Alexa, Google Assistant, and IFTTT for voice control.
Multiple Levels of Security
You can set three locking status for users-
Normal:Users can unlock using a code, key, fingerprint or smartphone.
Free Passage:Ultraloq UL300 will stay unlocked for free passage. No need for fingerprint, code or smartphone unlocking.
Lockout:All electronic unlocking features will be disabled for all users and unlocking will be done manually using mechanical keys.
1-year Manufacturer Warranty
Ultraloq UL300 is available to you with a 1-year standard manufacturer warranty.