Description
Philips Hue White and Colour Ambiance Single Bulb – E14
Choose high quality lighting solutions with the Philips HUE White and Colour Ambiance Single Bulb – E14. Control the lights in your home in a smart way by connecting them with a HUE bridge and controlling them with your smartphone or tablet. A single app, easily downloaded through the Google Play Store, Windows Store or the Apple App Store lets you control all the lights in your house at the touch of a button. You are also provided with a 2-year manufacturer warranty for all Philips HUE products sold through the website.
Have a SmartThings Hub? Here's how you can connect your SmartThings to Philips Hue.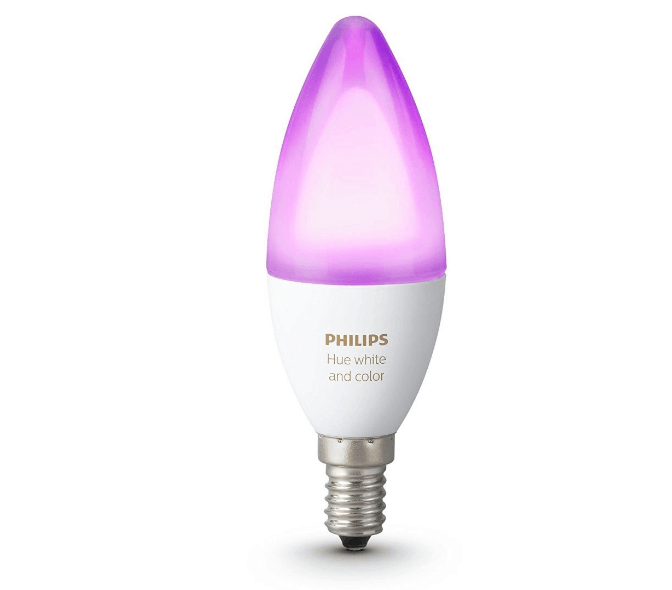 Choose from over 16 million colours to light up your home

You can choose from over 16 million different colours and 50000 shades of white to light up your home. The colour of the lights can be controlled with a single tap, through the Hue app installed in your phone.
Sync your lights with your favorite movies and music

Enrich your movie viewing experience by making your lights sync with the tone of your movie. Groove to your favorite beat by turning your room into a dance floor – make your lights sync to your favorite music with the Philips HUE E14.
Give a fresh start to your day

Wake up fresh and rejuvenated with the extraordinary power of the Philips HUE light. Avoid the glare of harsh lights with the Philips HUE light connected to the HUE Bridge, which gradually increases the intensity of the lights in your bedroom, giving your eyes the time to adjust to the lights.
Control your lights remotely

Don't you hate it when you inadvertently leave the lights on while leaving your house? Simply connect the Ambiance Single Bulb – E14 with a Philips HUE Bridge and you do not have to worry about leaving the lights on anymore! The HUE Bridge lets you control the HUE lights in your home, no matter where you are in the world.
Easy Installation

The Philips Hue White and Colour Ambiance Single Bulb is very easy to install. Installation can be done within minutes, without requiring the services of a professional.
2-Year Hardware Warranty

With the purchase of the Philips HUE White and Colour Ambiance Single Bulb – E14, you are offered 2-Year limited hardware warranty that protects you against any manufacturing defects.